When you're searching for the perfect piece to compliment your space or considering a custom design, having some language to accurately describe what you're looking for can be incredibly helpful. Of course, we're the experts so we'd never expect you to know it all, but even searching up photos to show us what you're imagining can be tricky if you just don't know what to search for or how to describe what styles you like. Here are a few broad categories and key terms that might help you put a name to the types of furniture you'd love to add to your home in the future.
Mid-Century Modern
Mid-Century Modern furniture is beloved for its timeless simplicity and functionality. The clean lines originated in the mid-1900s, but remain a staple of modern design and preferences. Mid-century modern pieces have the incredible skill of blending in with other design styles and seamlessly adding a casual, comfortable class to the space. Here is one example of our work with Mid-Century Modern hardwood furniture.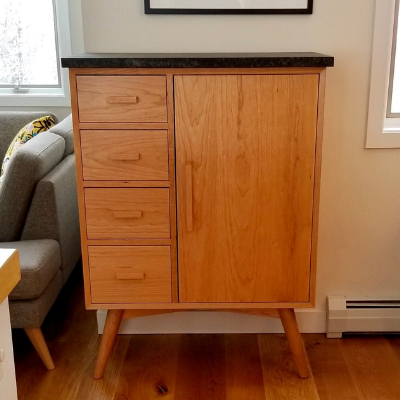 Live Edge Furniture
Live Edge Furniture describes the design choice to allow the natural edge of the hardwood to remain on at least one side of the piece. While there are often some sharp edges, the contrast of the live edge with other furniture elements is incredibly stunning and can create a beautifully subtle statement. This style has certainly risen in popularity and is one we've incorporated into bed frames, end tables, standing desks, and nearly every other furniture type we make and sell here at ClearLake. Live Edge furniture often utilizes a full slab of wood to enhance the organic nature of what is being presented.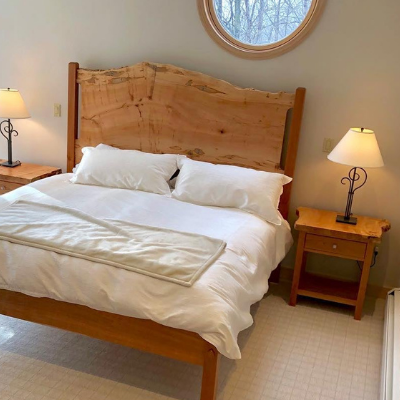 Industrial Hardwood Furniture
Industrial furniture most notably incorporates substantial metal elements, often in a way that looks heavy, blocky, or to be redundant, "industrial". Industrial furniture often utilizes darker tones, both in the wood and metal elements. The geometric angles often move throughout, giving a simple, clean, and expensive look to the furniture. Here is an example of a dining table we've designed with industrial elements in mind.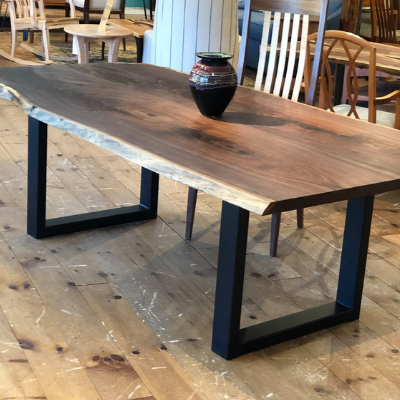 Epoxy Resin Furniture
The words epoxy and resin can be used interchangeably, but have become one of the newest and strongest design trends. With nearly endless color options or even clear resin being used, the potential to blend a hard, solid piece of wood with the illusions made by swirling resin throughout creates a unique dynamic rarely seen in hardwood furniture. We've experimented with numerous applications of this design and have developed some incredible and truly one of a kind pieces from it. This style naturally compliments Live Edge furniture and will often be seen paired together in a single piece.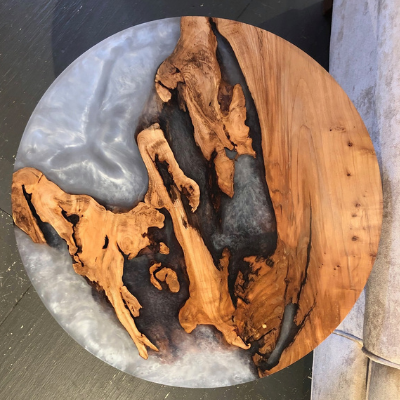 Selecting Hardwood Furniture
We hope that some of these terms may help you put words to the styles that have caught your eye as you continue your journey to find the perfect pieces for your space. As we mentioned above, we never expect you to know it all and are happy to walk you through options and recommendations as we create furniture that fits your home, existing furniture, and style preferences. If you're looking to develop custom hardwood furniture, shop our showroom, or consult with interior designers we are available right when you need us.